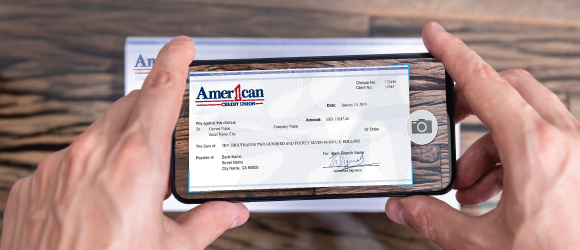 Download the American 1 Mobile App!
The American 1 Mobile App, available for both Android and iOS devices, is the easiest way to do your banking from anywhere. You can check your balances, transfer money, deposit checks*, pay bills, make loan payments, set travel dates on your cards, freeze your cards if they are lost or stolen, and more. Once you've registered in Online Banking, simply download the app and use your existing username and password. Click the links below to download the app now!
*Must meet eligibility requirements to access this service. Contact any branch for full details.

Need help with the Mobile App? Check out our FAQs below.
Mobile Check Deposit
How do I use mobile check deposit? Open the American 1 Mobile App and navigate to Mobile Deposit in the main navigation to deposit your check in minutes! Be sure to include "For Mobile Deposit Only" under your signature.
Is there a hold on funds when I deposit a check through mobile check deposit? Depending on the amount you are trying to deposit, fund availability time may differ. Your deposit details and the amount immediately available to you will appear within one business day. All funds deposited may be held up to 5 business days. Please refer to our Funds Availability Policy for full details.
What types of checks are not allowed to be deposited using mobile check deposit? The following checks may be declined for mobile check deposit:

Checks that appear to have been altered
Cashier's checks and money orders
Checks partially filled out
Checks that are payable to a third party, not on the account
Checks that do not include the proper signature endorsement including, "For Mobile Deposit Only"

What is the cutoff time for a mobile check deposit submission? You may deposit checks through mobile check deposit at any time! However, depending on the time of day and deposit amount, you may not see your deposit details until the following business day. For more information see our Mobile Deposit Disclosure.
What devices currently support mobile check deposit? Currently, we support the following devices for mobile check deposit:

iPhone, iPad, and iPod Touch (requires iOS 8.0 or later)
Android (4.1 and up)

View our Mobile Deposit Disclosure and Funds Availability Policy
Accounts
Our Mobile App doesn't place all accounts together in one screen – members will need to hit "switch account" to view account information on their other accounts.
Transfers
To transfer money between accounts that you are on, but you don't have access to yet, please contact your local American 1 branch.
Bill Pay
To use Bill Pay, select base account # upon login (or switch account if necessary) that your checking account with Bill Pay is on
The Billers are arranged alphabetically by nickname
The "due date" and "amount due" isn't available as a feature in the app yet. You can retrieve "amount due" and "due date" from the eBill reminder sent to the email you have on file with Bill Pay.
Card Controls
You can temporarily block or "freeze" your debit or credit card for your own peace of mind. Re-activate it when you're ready to make a purchase, use the ATM, or make a payment. Please reactivate your card at least two minutes before you intend to use it.
Lost your card? Permanently block it in the app! Simply click "Mark as Lost."
Traveling? Let us know! Submit travel dates within the app and we'll note it in our system! This way our fraud monitoring will know that you're out of town and it's less likely that you'll have transactions declined!
Settings
What is quick balance? You can use it to check the balances of selected accounts without logging into the app. Turn on quick balance in settings, then click the accounts you wish to see. A checkmark will indicate they are activated for quick balance.
Biometrics - Login with your thumbprint on supported devices. Activate the feature in settings.
Go to main navigation