Amazon Giveaway
Earn one entry to win a $100 Amazon Gift Card each time you shop with your American 1 Debit or Rewards Credit Card on Amazon!*
Rewards Credit Card
Our Rewards Credit Card Features:
No application fee
No annual fee
No cash advance fee
No balance transfer fee
Rewards program - You earn 1 point for every $1 you spend!
Low minimum payment
Over 100 card designs to choose from that can be printed directly in the branch
Variable and non-variable rate cards available
CLICK HERE to apply for your American 1 Rewards Credit Card.
At American 1 Credit Union, we have a local, in-house credit card service program which means when you have any questions you can talk to a real person.
Our credit card is accepted everywhere Visa is accepted, worldwide. You can manage your account online - apply for your card, make payments, and view your statements - all through American 1 Online Banking. Our in-house card services department helps you avoid phone menus and long on-hold waits.
Plus you get great benefits like Rewards points for gift and travel rewards, reimbursement for lost luggage, and protected online purchases with Verified by Visa. An American 1 Rewards Card has 24-hour fraud monitoring if your card is ever lost or stolen. When you apply for an American 1 Rewards credit card, you can get your card and have it activated in just minutes.
---
Interested in a Credit Limit Increase? At no cost to you, you can apply to increase your current credit card limit with American 1. This increases your spending power and the ability to accumulate Rewards points. CLICK HERE to apply.
Rewards Points
An American 1 Rewards credit card allows you to earn Reward points. You earn one point for every dollar in purchases you charge on your Visa. Points are redeemable for great gift and travel rewards, including airline tickets and gift cards.
Check your point total or browse through available items and prizes at www.scorecardrewards.com.
Transfer your current credit card balance to an American 1 credit card and start earning Rewards. There is no transfer fee and an American 1 Rewards credit card has great interest rates.
CLICK HERE to log in to the Rewards website.
Instant Issue Card Printing Service
Our Instant Issue card printing service offers our members the opportunity to get their new debit or credit card in minutes. Our branch locations are fully equipped to be able to produce a full color card that is instantly activated and ready for use. No more waiting 10 days for the card in the mail - you will have your new card in hand before you leave the branch.
Best of all, our members will be able to choose their card design. In addition, there are card designs that are designated to charitable organizations. If you select one of these designs, 100% of the card fee will be sent to that charity.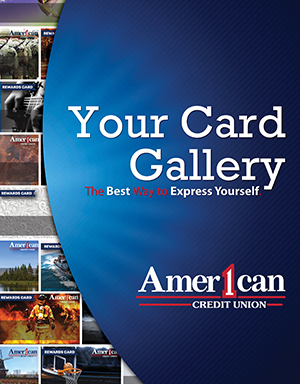 If you are interested in changing your card design, stop by a branch today!
Making Payments
You can make payments in Online Banking or at any American 1 branch. Please make checks payable to American 1 Credit Union or A1CU.
Mail payments to:
American 1 Credit Union
718 East Michigan Ave.
Jackson, MI 49201
*Rules for the Amazon Giveaway: One drawing entry will be earned for every purchase (cash advances and balance transfers do not count for entries into giveaway) made with your American 1 Debit or Rewards Credit Card on Amazon.com or the Amazon app from October 1, 2019 through November 16, 2019. Two prize winners will be randomly selected and may choose either one $100 Amazon gift card or a 1-year Amazon Prime membership as their prize. All member accounts and loans must be in good standing to be eligible to win the prize. Winners will be contacted via phone by November 20, 2019. American 1 employees, Board members, and their immediate families are not eligible. American 1 is not affiliated, associated, authorized, endorsed by, or in any way officially connected with Amazon.
Go to main navigation