Simplicity Checking
Why pay for your checking account when you can enjoy a simple, no strings attached checking account at American 1 Credit Union? Simplicity Checking is the free and easy checking account for American 1 members. While other financial institutions hike up their fees, American 1 offers you another amazing option!
Free instant issue debit card

Access to over 50

no-fee American 1 ATMs

No minimum balance fee

No monthly fees

Online banking with check copies

e-Statements

Free Bill Pay

Courtesy Pay protection

First box of checks free!
No strings attached, it's that simple!
Want help switching your checking account? CONTACT US and we'll help you through the process - (please don't send your account number or Social Security Number in the initial e-mail)
Silver Advantage Checking
At American 1, we understand that your banking needs change as you age. That's why we have created the Silver Advantage Account for members age 62 and older.
No minimum balance fee
No monthly fees
Free debit card with a card design upgrade once a year
Free access to over 50 no-fee American 1 ATMs
Free online banking with Bill Pay and e-Statements
Courtesy Pay protection
One free box of checks each year!
Free use of the coin counter
Premier Checking
Premier Checking is for our members that want to earn dividends on their deposits. It has all the great features of Simplicity Checking plus these advantages.
Earn dividends based on each day's ending balance and compounded monthly so your money is always growing
Free checks
Premier Checking requires a minimum balance of $2,000. A monthly $5 fee is assessed if balance drops below the minimum.
Business Checking
American 1 offers savings and checking accounts for our business members, as well as night drop-offs and direct payroll deposit, so you can focus on your customers instead of your finances.
$0.50 fee per deposit, not per item
Free account analysis, to compare our account with another financial institution's
Earns dividends
Convenient branch locations and hours, with more than 50 ATM locations
Free online and phone banking
Free Bill Pay
Free e-Statements
You can do business any time of day, without any wait, by using American 1's drop bags and drop boxes. Drop your locked bag off at any branch during business hours. After hours, you can take advantage of drop boxes at our Home Office, Battle Creek, Parnall, and Vandercook branches.
We've got you covered with Courtesy Pay
As a benefit to those who qualify, a pre-approved overdraft limit of $525 can be added to your personal checking account. The service is only utilized when you need it most. If you need to overdraw your account to cover those necessary bills, American 1 will pay each item up to your $525 limit. Each time you access Courtesy Pay to cover your payments, your account will be assessed a one-time fee of $25. This option is much more cost-effective than using pay day lenders, bouncing necessary bill payments and paying large insufficient fund fees to bill collectors.
To take advantage of Courtesy Pay, simply ask about our opt-in program. Learn more here.
Debit Card Instant Issue Service
Our instant issue cards offer our member's the opportunity to get their new debit card in minutes. Our branch locations are now fully equipped to be able to produce a full color card that is instantly activated and ready for use. No more waiting for 10 days for the card in the mail – you will have your new card in hand before you leave the branch.
Best of all, our members will be able to choose their card design.* In addition, there are card designs that are designated to charitable organizations. If you select one of these designs, 100% of the card fee will be sent to that charity.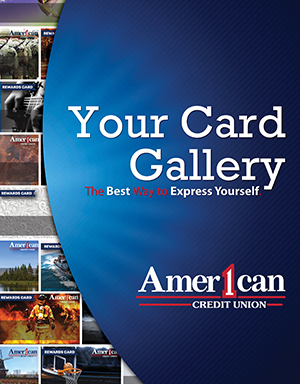 Go to main navigation