Community Involvement
At American 1 Credit Union, we're not the average financial institution that simply says "we support our community" – we prove it every day. We are passionate about contributing to the growth and education of our communities through purposeful donations and sponsorships, and by coordinating free events for our communities. When it comes to supporting our communities through donations and sponsorships, American 1 and our Board of Directors have adopted eight Key Giving Areas, which outline the charitable areas that are most important to the credit union. These Key Giving Areas include veterans and active military members, organizations that our employees actively volunteer with, programs that provide after school enrichment for children, free events for the community, charities that support families, grade school and higher education, financial education, efforts to improve our home county of Jackson, and programs that support those who face economic hardships.
If your organization falls into one or more of the following categories, please feel free to request a donation using the link below.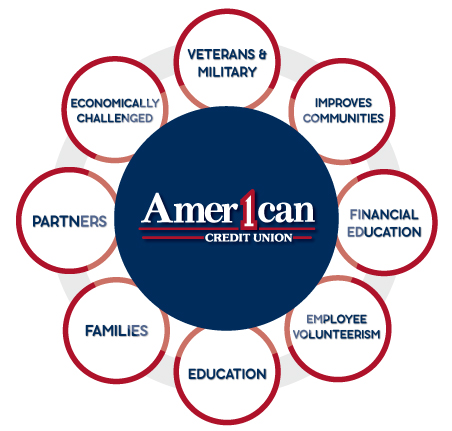 Requesting a Donation
Every donation request must be submitted by using the donation request form and must be submitted no later than one month prior to event day.
Go to main navigation