Member Discounts & Services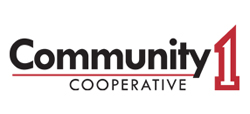 To become a member at American 1 Credit Union, you first need to join Community 1 Cooperative. Membership in Community 1 Cooperative is only $3 and is open to anyone. Community 1 is a community co-op that provides discounts and services to its members, one of which is American 1 Credit Union.
The mission of Community 1 Cooperative is to enhance the communities we serve through quality, cost-effective services for individuals, families, non-profit organizations, and businesses.
Available Discounts:

Plus...

Discount Design Services
Banner Printing

Email community1@a1cu.org for more information and pricing.
TracFone
Members can save up to $360 per year on wireless through Love My Credit Union Rewards. Keep your phone, number and network for less.
---
Pick from thousands of low-mileage vehicles with delivery to your doorstep or nearby Carvana vending machine. Test-own it with a 7-Day Money-Back Guarantee, and get a 100-day warranty, plus a $100 credit union cash reward.
---
TruStage
You May Be Paying Too Much for Car Insurance
You work hard for your money and even harder to keep your budget on track. So why spend too much on car insurance—maybe hundreds of dollars too much?
American 1 Credit Union members may qualify for discounts on car insurance through the TruStage Auto Insurance Program. You could save big, and it can be easy to switch carriers—without losing any money.
TruStage offers a powerful mix of savings and popular, member-friendly benefits:
Credit union member discounts
Nationally recognized companies
Friendly, 24/7 service—even on holidays
Discounts for multiple vehicles, safety features, good driving and more
Mobile app for easy claims
It can be easy to get a free quote today. Don't wait to see how much you could save.
TruStage is part of a heritage of faithful service to credit union members spanning more than 80 years. Over 17 million people have selected TruStage for AD&D, life*, auto & home insurance and more.
TruStage® Auto Insurance program is offered by TruStage Insurance Agency, LLC and issued by leading insurance companies. Discounts are not available in all states and discounts vary by state. The insurance offered is not a deposit and is not federally insured. This coverage is not sold or guaranteed by your credit union.
*Non-Deposit Investment Products are not obligations of the credit union, involve investment risk, and are being offered by a dual employee who accepts deposits on behalf of the credit union and also sells non-deposit investment products on behalf of a third-party broker.
AHE, AHL-1661466.1
---
Turbo Tax
As an American 1 member, you can get a chance to win $25K and save up to $15 on TurboTax®
---
Discount Prescription Card
American 1 is offering a discount prescription card free to our members!
Simply create and print your free prescription drug card using the form below and receive savings of up to 75% at more than 54,000 national and regional pharmacies. This card can be used as your primary plan, and on prescriptions not covered by your current insurance plan.
To get started, enter your name and e-mail address in the box below and we'll generate a printable membership card for you. We also have cards available in our branches!
No application, enrollment, or eligibility required

Program has "lowest price" logic to guarantee best deal on prescriptions

Discounts average about 30%

Pay the lower of a discount off average wholesale, MAC, or pharmacy promotional/retail pricing
---
VPI Pet Insurance
As a member of American 1, you can receive a discount on an affordable insurance policy from VPI® Pet Insurance for your faithful companion. VPI® Pet Insurance is the nation's oldest, largest and number one veterinarian-recommended pet health insurance provider. With comprehensive plans designed to protect you financially when the unexpected occurs, affordable coverage from VPI® Pet Insurance allows you to focus on providing optimal healthcare for your pet rather than worrying about the cost of treatment. You can be reimbursed for veterinary expenses such as surgeries, diagnostic tests, hospitalization, prescriptions, vaccinations and more.
Now, thanks to the special 5% group discount you get for being an American 1 CU member, you could save hundreds of dollars in VPI® Pet Insurance premiums over the life of your pet.*
For a no-obligation quote or to learn more, call 1-877-PETS-VPI or visit petsvpi.com.
*5% yearly discount on base medical plans only, with continuous coverage.