American 1 mourns the loss of a long-time board member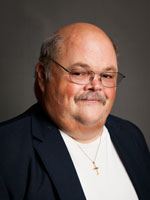 Chet "Coach" Radabaugh was a strong supporter of credit unions, serving for 32 years as a board member of American 1 Credit Union. Chet passed away on June 27th.
He started serving on the Jackson Co-Op Federal Credit Union Supervisory Committee and Board of Directors and was instrumental in the name change to American 1. He began as a volunteer board member in 1983 and oversaw many changes while serving as the board Chairman and Vice-Chairman at the credit union. Chet's credit union roots were deep as he had worked at Huron River Credit Union and was the CEO at Catholic Credit Union in Jackson.
Chet was also very involved in his community. He was an active coach at Northwest Schools in Jackson for many years. He often volunteered his time to work with special needs students at the school. He had a big heart and was a strong community supporter. His positive attitude and kindness were contagious and inspired those around him.
American 1 Credit Union is proud to have had Chet Radabaugh as a board member and cannot extend enough appreciation of his service, leadership and support. The work he accomplished at American 1 will benefit members and our community well in t​o the future.
« Return to "American 1 Blog"
Go to main navigation