Romance Scams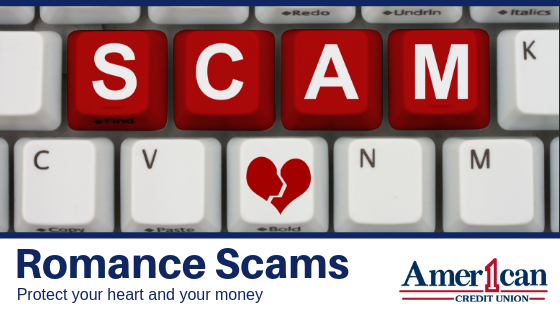 Just in time for this holiday of love, American 1 would like to remind you to protect your heart – and your wallet. The Federal Trade Commission (FTC) just released data that spotlighted Romance Scams as the #1 scam occurring right now, and the statistics are staggering. The number of romance scams reported to the FTC has increased from 8,500 in 2015 with losses of $33 million to 21,000 in 2018 with losses totaling $143 million. Also, people ages 40-69 report losing money to Romance Scams at the highest rate – more than twice the rate of 20-somethings. People age 70 and over report the highest median losses at $10,000.
While we want our members to be informed of the statistics, we don't want you to lose hope. Love and online dating is not a lost cause, just always remember these few tips:
Do your research on potential dating sites before joining or beginning to chat with matches. Some sites have identity verification tools required when you join to try and reduce the number of fake profiles.




Don't send money or gifts to anyone you have not met in person.




When conversing with online suitors, take it slow. Scrutinize their responses and look for inconsistent or evasive answers.

Check photos by using the "search by image" feature of your search engine. If you find your online love's picture, but with someone else's name, chances are that Mr./Ms. Right are really Mr./Ms. Wrong.


Love can put stars in our eyes, but you still have to evaluate the facts. If you have the slightest concern, talk to a real life friend.

If you suspect a Romance Scam, cut off contact right away. Report it to the FTC at www.ftc.gov/complaint and notify the dating site where you met the person.




« Return to "American 1 Blog"
Go to main navigation