Home Improvement Projects for Summer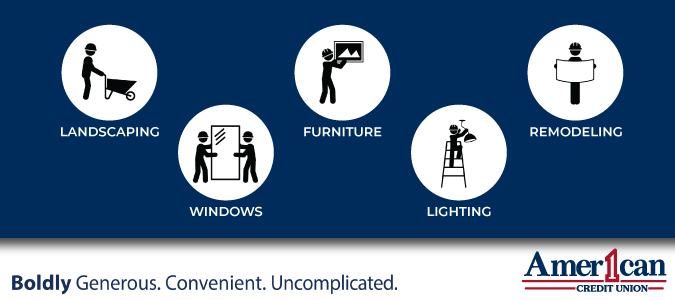 With more time than ever at home, many people are upgrading their spaces. Whether it's a small upgrade or a larger investment, a home improvement personal loan can help you create the home of your dreams.
Below you'll find some ideas for home improvement projects that range from quick updates to more substantial investments:
Garage Door Replacement

If your garage door is broken or rusty, you may want to consider replacing it. Installing one with windows can help increase curb appeal and add value to your home.

Minor Kitchen Upgrades

Upgrading your kitchen doesn't have to mean giving it a complete overhaul. Simple upgrades like new cabinet handles or a new sink can help add style to your kitchen!

Landscaping

It's amazing what a bit of green can do for your front yard. Planting trees, bushes, and flowers near and around your home can help it look more complete and increases curb appeal.

New Front Door

Your front door is one of the first impressions a guest has when visiting your home for the first time. If your door is beat up or wore out, it might be time for a new one. Rustic front doors and ones with windows are very popular and could offer a good return on your investment.

Install a Deck

A deck or patio is the perfect summer entertainment spot. Installing a quality deck may be costly, but you will definitely benefit from the rewards and it could increase your home's value substantially.

New Windows

Overtime, windows can become drafty and make your home lose a lot of heat during the winter – costing you hundreds of extra dollars. When you invest in new windows, you could end up saving money every year.

New Living Room Furniture

A living room refresh can give you house that small upgrade it needs inside. If you're not looking to spend a lot of money on a new set there are many gently used options you could try too!

Fresh Paint

Paint is the perfect inexpensive home project that can drastically change any room. Try a soft pastel color that will provide an update but still be a neutral color for your space!

New Appliances

If your appliances are old, chances are they are costing you more money by using more energy. Upgrading to a newer appliance is not only more efficient, but can also revitalize your kitchen or laundry room.

Lighting

Light fixtures can often go overlooked in a home. However, when you upgrade them they can be the finishing touch your room needed. Plus, when you update them and install energy efficient light bulbs, they can also help save money!
Read this HGTV article and this Clovered article to find out more about these upgrades and get started on your home improvement projects! American 1 can help with all your home improvement projects with a personal loan. Click to apply today.
« Return to "American 1 Blog"