American 1 Gives Over $1M Back to Members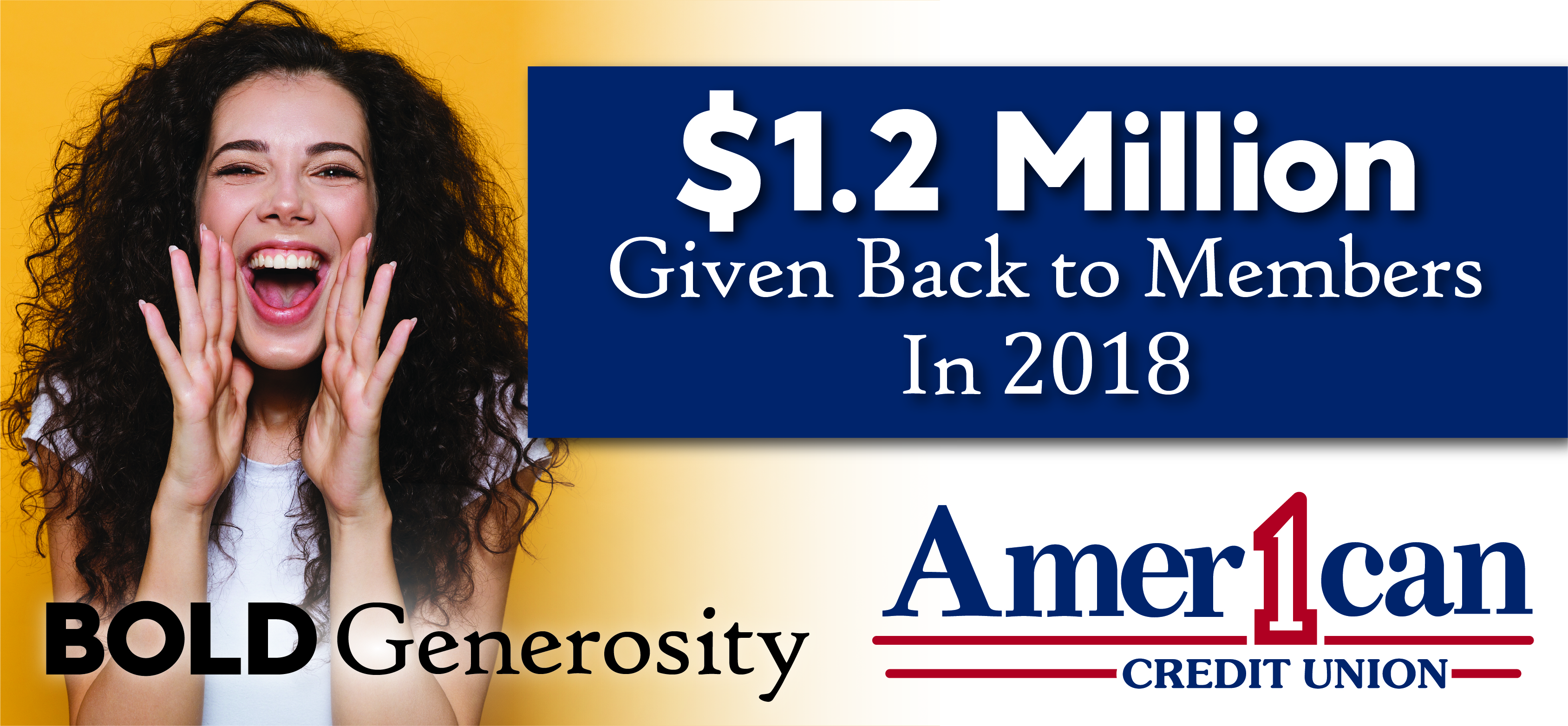 American 1 Credit Union is proud to announce that their 2018 Member Giveback totaled more than $1.2 million dollars in loan interest rebates and other givebacks to members of the credit union. In addition to cash back for members, American 1 awarded extra Bonus Rewards Points to their credit card holders worth more than $315,000.
The bold generosity of the 2018 Member Giveback was mirrored by American 1's community giving. Charitable and community contributions exceeded $314,000, providing funds to more than 200 organizations and non-profits. Among the most notable were American 1's gift to Jackson School of the Arts for their capital campaign for a Dynamic Arts Center and the sponsorship of Talons Out Honor Flight for the benefit of veterans in the communities that American 1 serves.
In April of 2018, American 1 Credit Union also took a bold step, gaining the attention of national media, when they announced a $1 million dollar increase in compensation for all employees with the exception of their CEO, at the same time raising their minimum hourly wage to $13.
Laura Pryor, VP of Marketing and Communications, elaborated on what drives American 1's generosity, "The common thread of the bold generosity that characterizes the way American 1 conducts business is people. We believe that providing exceptional, personal service for the everyday banking needs of members is a simple business model that we are doing well. Success begins with our members. Our employees work hard to serve our 58,000 members with great services. When we do our work well, members are loyal and refer their family and friends. Member loyalty fueled 14% growth for American 1 in 2018, which is well above the industry average. Our success provides the opportunity to give back to our members and communities in a bold way. It really comes down to caring for people."
Established in 1950, American 1 Credit Union today serves over 58,000 members with branches in Jackson, Washtenaw, Hillsdale, Calhoun, Macomb, Lenawee and Wayne counties.
« Return to "American 1 Blog"
Go to main navigation