Home
|
Explore
| American 1 Credit Union Donates $25,000 to Jackson County Office of the Sheriff K-9 Program
American 1 Credit Union Donates $25,000 to Jackson County Office of the Sheriff K-9 Program
Jackson, MI – American 1 announced a $25,000 donation to the Jackson County Office of the Sheriff for their new K-9 Program during a check presentation on May 24, 2023.
K-9 Unit dogs can assist with a multitude of operations, including tracking missing persons and fleeing suspects from serious criminal incidents. They also assist with narcotics detection, which will help in the county's fight against opioid and fentanyl overdoses.
In a recent press release from the Sheriff's Office, Sheriff Schuette stated that a K-9 is extremely important for the Sheriff's Office.
"When we have had a missing vulnerable person, such as a young child or a dementia patient, the quick use of a K-9 to track the individual is critical to a successful outcome," said Sheriff Schuette.
In the past, Sheriff's officials have had to rely upon outside agencies for this service, and many times a K-9 is not available.
"We have a responsibility to the communities we serve," said Martha Fuerstenau, President and CEO of American 1 Credit Union. "We feel strongly about security measures that protect our community and members. Our $25,000 donation brings necessary security and allows for a quicker response time to imminent concerns."
In addition to the K-9 Program partnership, American 1 and The Sheriff's Office partner on a monthly Fraud Fighter round table discussion. The meetings aim to share information and ideas to reduce fraud in our community and protect local non-profits and financial institutions. Meetings are held the third Tuesday of each month, beginning at 9 am, at the Training Room at Chanter Road Jail (1995 Chanter Road, Jackson, MI 49201).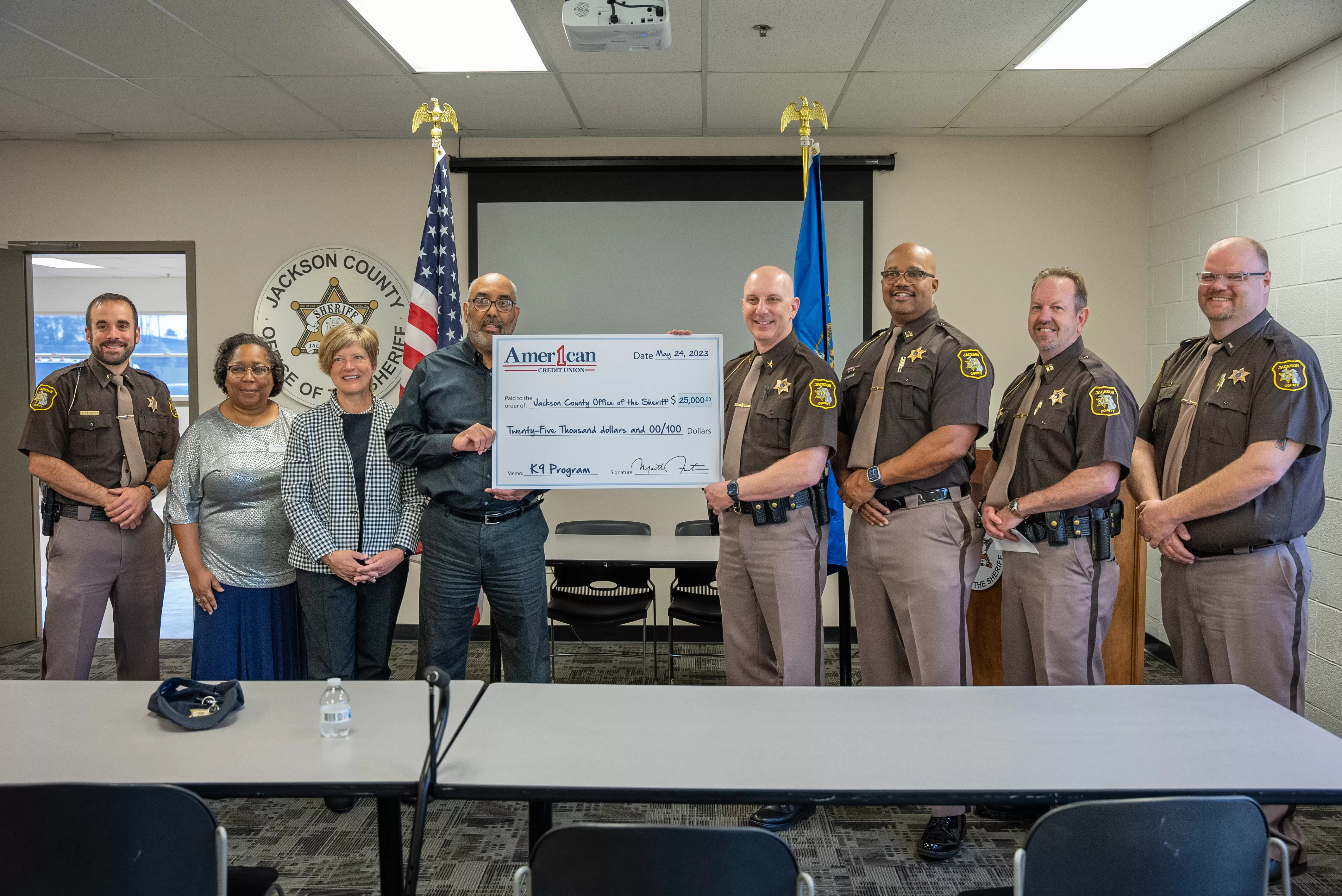 American 1 President & CEO, Martha Fuerstenau, American 1 Board Vice Chair, Frank Weathers, and American 1 Board Secretary, Angella Arnold, present a check for $25,000 to the Jackson County Office of the Sheriff.
Established in 1950, American 1 Credit Union serves over 63,000 members, including over 200 local employees, with 16 branch locations across Jackson, Washtenaw, Hillsdale, Lenawee, and Wayne counties. American 1 is proud to serve the members of its communities by creating financial wellness through personal everyday banking.
« Return to "American 1 Blog"