American 1 and CP Federal Announce Record-Breaking Fundraiser Results for Hospice Home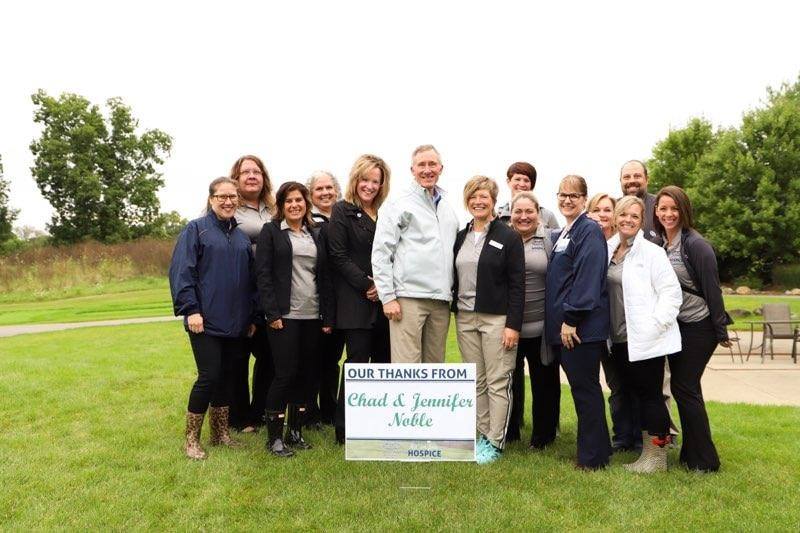 Jackson, MI – This year marks a trailblazing one for American 1 Credit Union and CP Federal Credit Union. For the first time, the two credit unions joined forces in support of the Henry Ford Allegiance Hospice Home for the 19th Annual Hit 'Em Fore Hospice Golf Outing. This year's event shattered previous fundraising records by raising more than $65,000 during the outing on Monday, September 9 at the Grande Golf Club. The outing, which began in 2000, has raised more than $312,000 for the Hospice Home over its 19 year history.
The record-breaking proceeds from this year's event directly benefit local families in need of the unique end-of-life care provided by the Hospice Home. Numerous sponsors, supporters, and volunteers, along with the combined energy of the two credit unions are what contributed to the success of this year's outing. A full list of 2019 event sponsors can be viewed at https://bit.ly/2kk3526
President/CEO of CP Federal Credit Union and Chair for the Henry Ford Allegiance Hospice Board Chrissy Siders stated, "I am overwhelmed by the passion and commitment exuded by the CP Federal Credit Union and American 1 Credit Union team. Our collaboration alongside the Henry Ford Allegiance Health team generated not only a substantial financial gift but also an impactful contribution for the families in our community who desire for their loved one to receive their end of life care at the Henry Ford Allegiance Hospice Home. I am honored to be part of this team and the Jackson Community and grateful for the sponsors for their support of this gem in our community."
Martha Fuerstenau, President/CEO of American 1 Credit Union and Vice Chair for the Henry Ford Allegiance Health Board of Trustees said, "The partnership between our two credit unions boldly states that we are committed to the communities we serve and the sustainment of important organizations such as the Henry Ford Allegiance Hospice Home. To the community, volunteers, sponsors and staff who made this event possible, thank you. Your tireless work for the betterment of our community makes me proud every day. "
For more information or to stay up-to-date on next year's event, follow along on Facebook at www.facebook.com/hitemforehospice
Henry Ford Allegiance Hospice Home is the only residence for end-of-life care in Jackson County. The Hospice Home offers private patient rooms with sleeping space for loved ones, a water therapy spa room with walk-in tub, and features that encourage family gatherings, such as outdoor patios and walking paths, a gazebo and garden, children's playground, and two lounge areas with kitchens.
« Return to "American 1 Blog"