American 1 Credit Union Donates to new YMCA Child Care Program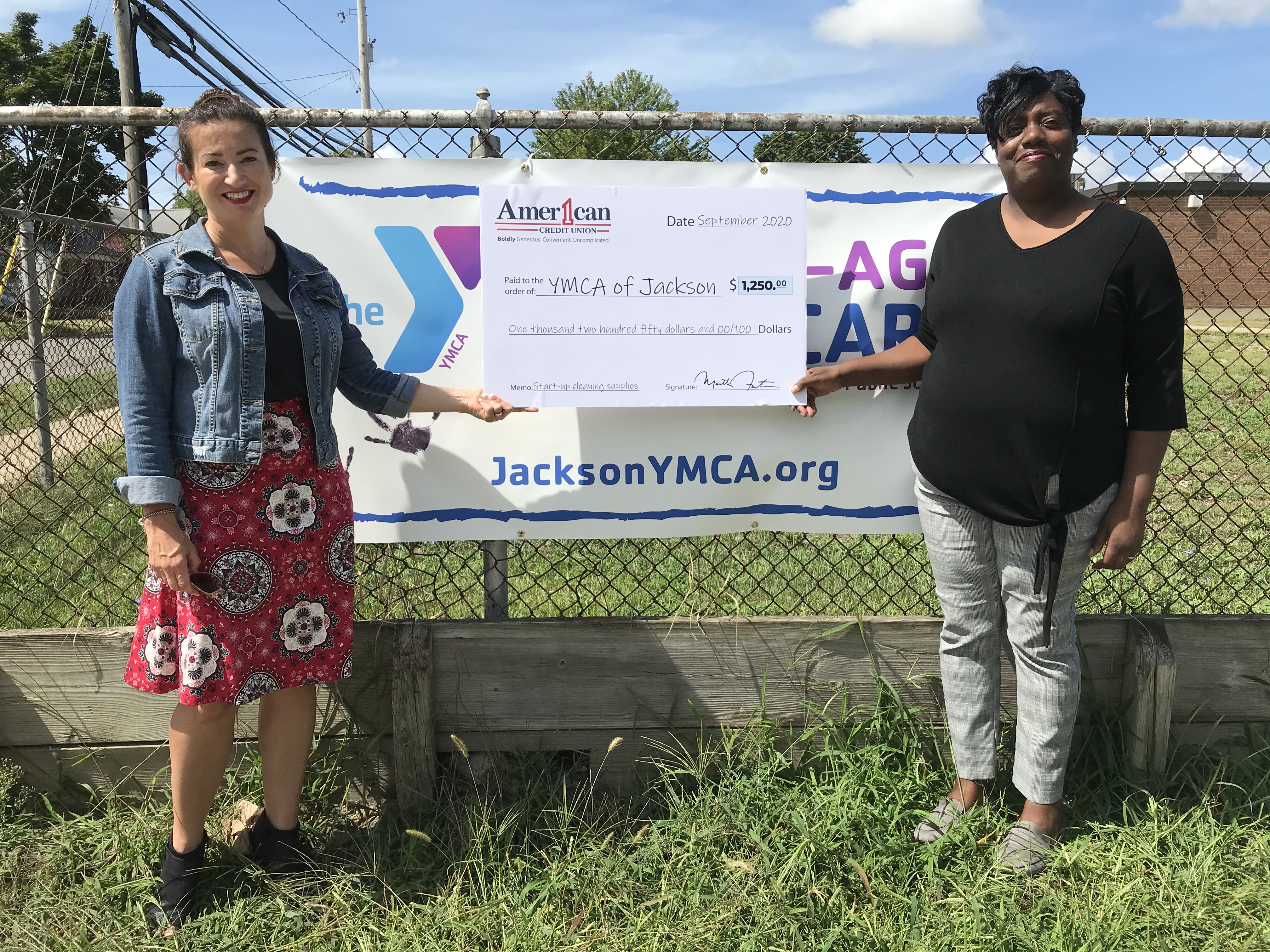 Jackson, MI – Today American 1 Credit Union announced a donation of $1,250 to the YMCA of Jackson to help purchase cleaning supplies for their newly formed child care program in collaboration with Jackson Public Schools.
The YMCA program comes in response to COVID-19 child care concerns as parents navigate the stress of balancing a new school schedule – whether it be virtual or in-person – with an ongoing pandemic. The YMCA is offering full-day and after-school care for the families of Y5-5th grade JPS students, which will be on-site at T.A. Wilson in Jackson. The program offers homework and online school work assistance, gym and outdoor time, art, and other engaging activities.
"We appreciate the YMCA and their effort to help the working parents of our community. We understand the need for this type of program in our community as we've had many American 1 employees looking for similar resources," said Martha Fuerstenau, President/CEO of American 1. "It's our pleasure to provide ongoing support to the YMCA."
In July 2019, American 1 made a $600,000 gift to the Jackson YMCA's Capital Campaign. The 2019 gift provides naming of the lobby of the new Jackson YMCA building. The YMCA's Capital Campaign is a $25 million project to replace the current aging facility with a larger modern structure.
"The YMCA of Jackson is incredible at meeting community needs – they see a problem and work hard to find a solution," said Tonia White, American 1's Chief Employee Experience Officer. "Many of our local members utilize the YMCA, so a vibrant, on-going partnership is a natural fit."
Due to physical distancing requirements, space will be limited in this new program and families are encouraged to sign up as soon as possible. Interested persons can register online at JacksonYMCA.org or by calling 517.782.0537
Established in 1950, American 1 Credit Union today serves over 58,000 members with 16 branch locations across Jackson, Washtenaw, Hillsdale, Calhoun, Lenawee, and Wayne counties. American 1 is proud to serve the members of their communities by creating financial wellness through personal everyday banking.
« Return to "American 1 Blog"