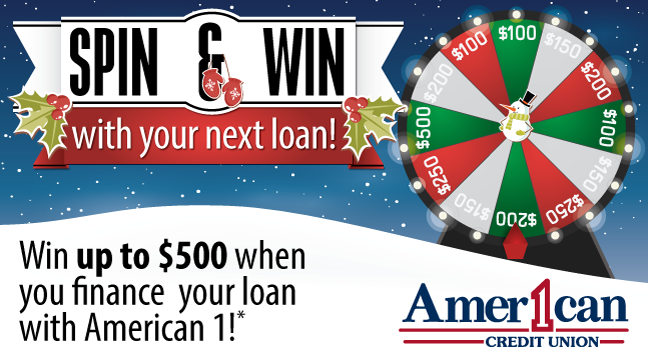 Spin and win $100 to $500 when you finance your loan at American 1 through December 31, 2018! This cash back promotion applies to new and used auto loans, snowmobiles, RVs and campers, tractors, and any other closed-end secured loan. Our hassle-free loan application makes applying for your next loan quick and simple! Fill out our online loan application today to get the process started!

Not a member yet? Not a problem. Anyone can be a member at American 1 Credit Union! You will become a member when you finance your loan with us, which gives you access to all of our member benefits.
*Qualifications for Spin & Win Promotion: All closed-end, secured loans of at least $5,000 closed October 1, 2018 through December 31, 2018 are eligible to spin the wheel of cash (amount of at least $100 and no more than $500.) The funds will be deposited to the eligible member's savings share at American 1 within two business days. Accounts must be in good standing. Refinances cannot be a current American 1 loan.
Go to main navigation