Everyday Banking Options
Not sure where or how to do your banking right now? Don't worry - we have multiple ways for you to do your banking, some from the comfort of your own home. In these uncertain times, American 1 is still here for you.
Click the image to open a larger version of the chart.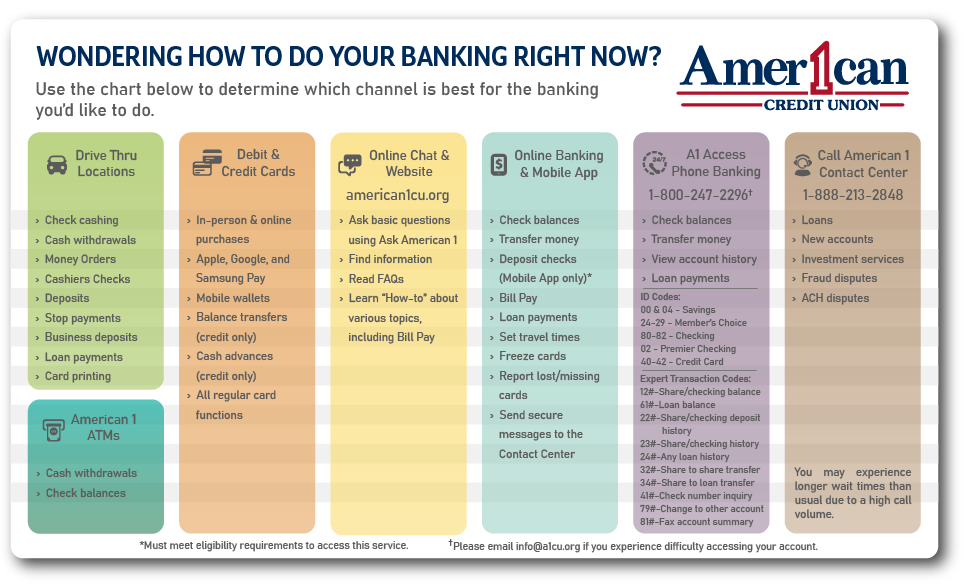 Use any of the following options to do your everyday banking:
Drive Thru Locations. All of our drive thru locations are open. You can withdraw money, cash checks, get money orders and cashiers checks, make deposits, stop payments, pay your loan, and even get a new card printed.
American 1 ATMs. We have over 50 no-surcharge ATMs available for you to withdraw money or check your account balances.
Debit & Credit Cards. Your American 1 debit and credit cards will have the same purchasing power and support as always. Use them for purchases in stores or online, store them on your phone's mobile wallet, link them to PayPal and Apple, Google or Samsung Pay, and much more. Should any issues arise, just call our Contact Center for quick support.
Online Banking & Mobile App. With American 1 Online Banking and our Mobile App, it's like having your own virtual branch! You can check your balances, transfer money, pay bills, make loan payments, set travel dates on your cards, freeze your cards if they are lost or stolen, remotely deposit checks (available only on the Mobile App to members who meet eligibility requirements) and even send secure messages to our friendly team in the Contact Center.
Online Chat & Ask American 1. If you have questions regarding our products, services, branch hours, and other general information, you can easily find the answers by using the Ask American 1 search bar on the top of every page of our website. You will even find helpful FAQs and how-to walkthroughs for many topics, including Bill Pay. If you can't find what you're looking for, just open a chat with us and one of our team members will get back to you quickly with the answer you're looking for.
A1 Access Phone Banking. A1 Access is American 1's phone banking technology. You can check your balances, transfer money, make loan payments, hear your account history and more - all from the convenience of your phone. You must have your account number and an access code to use A1 Access. Please call us at 1-888-213-2848 or email info@a1cu.org if you would like an access code to begin using A1 Access.
Contact Center. Our 24-hour Contact Center is ready to help you with all of your banking services. They can help you open accounts and loans, complete fraud and ACH disputes, and much more.* You can reach our Contact Center through our website chat feature, Ask American 1 feature, secure messages in Online Banking and our Mobile App, or by calling 1-888-213-2848.
*All loans are subject to approval
Go to main navigation