Community
Monthly Charities
January: Shop Rat Foundation
February: King's Kupboard
March: John George Home
April: Aid In Milan
May: Calhoun County Animal Shelter
June: Faith in Action
July: AWARE Shelter
August: Volunteers of America
September: Adopt a U.S. Soldier
October: Boy Scouts of America
November: Other Christmas Charities
December: American Red Cross
Event Calendar
May 3rd, 2014 (11:00 AM): Milan Shred Day
May 15th, 2014 (12:00 PM) - May 17th, 2014: May Car Sale
May 17th, 2014 (12:00 PM): Jackson Shred Day
June 13th, 2014 (12:00 PM): Jackson Kids' Fest
June 18th, 2014 (10:00 AM): Hillsdale Kids' Fest
June 20th, 2014 (10:00 AM): Chelsea Kids' Fest
July 11th, 2014 (6:00 PM): Teen Idol
August 14th, 2014 (12:00 PM) - August 16th, 2014: August Car Sale
September 13th, 2014 (10:00 AM): Community Market Days
October 25th, 2014 (11:00 AM): Soup Wars
November 13th, 2014 (12:00 PM) - November 15th, 2014: Winter Truck & SUV Sale
December 6th, 2014 (10:00 AM): Hillsdale Women's Expo

Community
---
American 1 Community Involvement Scholarships
American 1 will be giving away 15 scholarships worth $1,000 to Michigan students in 2014! Applying students must be a resident of Michigan and a senior in high school that is planning on attending some form of higher education in the fall of 2014; applicants do not need to be a member at American 1 Credit Union. All applicants must write an essay of 1,500 words or less on the benefits of altruism. Click here for a scholarship application.
Our scholarships are funded through our loan Skip-a-Pay program, where American 1 members can choose to skip one month's loan payment for $25. That $25 funds our scholarship program, plus other administrative fees.
---
Community 1 Cooperative Community Involvement Scholarships
Community 1 Cooperative is proud to offer $500 scholarships to local people in the workforce who are looking to enhance their education, through it's Community Involvement Scholarship Program. Community 1 Cooperative scholarships reward working men and women for involvement in their communities. Applicants do not need to be currently enrolled in an educational institution. The scholarship can be applied to a variety of institutions including 4-year and 2-year programs, technical and vocational institutions and other non-traditional courses of study.
Click here for the press release
Click here for a scholorship application
---

Community Shred Days
American 1 is proud to present free Community Shred Days where individuals and small businesses can shred confidential information and help prevent identity theft. We will be having two shred days in 2014:
Milan City Hall - May3 from 11am - 2pm
Jackson, Jackson Crossing South of Sears - May 17th from 12pm - 3pm
At this point in time, we can only accomodate personal and home business shredding. Have a question? Contact Liz Niles at (517) 780-4139.
---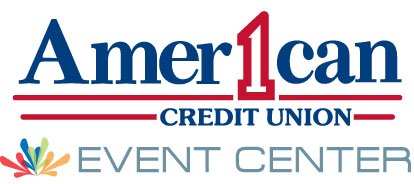 Rent the American 1 Event Center for your event
Looking for the perfect place for your event, reception, dance, or banquet? Be sure to check out the American 1 Event Center at the Jackson County Fairgrounds.
Head to the Jackson County Fairgrounds web site for more information.
---

Mobile ATM available to area events
Did you know that American 1 has a mobile ATM that can be taken to events?
Click here for an application to have the American 1 Mobile ATM at your event.
Please note that due to the operating costs of this ATM, while American 1 members will not be charged a fee, non-members will be charged a $2 fee for using the ATM.
---
Upcoming Events
American 1 is proud to sponsor free, family-focused events all year long.

2014
Paws & Claws Expo: Sat., Feb. 8 @ American 1 Event Center, Jackson, MI
Jackson Women's Expo: Sat., Mar. 8 @ Middle School at Parkside, Jackson, MI
Milan Shred Day: Sat., May 3 @ TBA, Milan, MI
Spring Used Car Sale: Thurs., Fri., & Sat., May 15,16, & 17 @ TBA
Jackson Shred Day: Sat., May 17 @ Sears Parking Lot, Jackson, MI
Jackson Kids' Fest: Fri., Jun. 13 @ American 1 Event Center, Jackson, MI
Hillsdale Kids' Fest: Wed., Jun. 18 @ Hillsdale County Fairgrounds, Hillsdale, MI
Chelsea Kids' Fest: Fri., Jun. 20 @ Timbertown Park, Chelsea, MI
Teen Idol: Fri., July 11 @ Jackson Co. Fairgrounds, Jackson, MI
Summer Used Car Sale: Thurs., Fri., & Sat., Aug. 14, 15, & 16 @ TBA
Community Market Days: Sat., Sep. 13 @ Jackson Co. Fairgrounds, Jackson, MI
Soup Wars: Sat., October 25 @ American 1 Event Center, Jackson, MI
Winter Used Car Sale: Thurs., Fri., & Sat., Nov. 13,14, & 15 @ Jackson County Fairgrounds, Jackson, MI
Hillsdale Women's Expo: Sat., Dec. 6 @ Dow Leadership & Conference Center, Hillsdale, MI
---