American 1 Freedom+ Debit Card
If you need help budgeting or would like a debit card that you can't overdraw then Freedom+ is the card for you! Like a checking account you get a debit card that you can use in stores and at ATMs, but like a savings account it's virtually overdraft proof; you can only use money that's in your account. You can manage the funds on your Freedom+ card by making deposits in branch or transfer money via home banking. You can also have checks direct deposited into your Freedom+ account.
There are tons of ways to utilize the Freedom+ card outside of everyday spending and ATM withdrawals. Use it to pay bills, for internet purchases, for spending privacy, or a rainy day fund. Freedom+ can help you budget for holiday or vacation spending. Put only what you want to spend on the card before you leave for your trip to the store or the beach, and rest easy knowing you won't go over budget. The Freedom+ card can be used as a tool to teach teenagers financial responsibility by using it for allowance deposits. It can also provide financial freedom for dependent family members; they will still have funds to spend, but the main account holder will be able to help them manage their spending.
Just like other cards at American 1, Freedom+ cards are available in multiple designs, and are printed instantly at any branch. Get your Freedom+ card today!
Your Freedom+ card designs.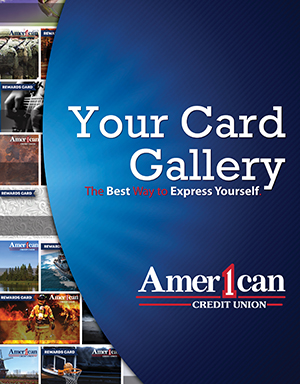 Go to main navigation